What is a Visual Resume?
A Visual Resume, also known as a CV, is a digital document incorporating more images and graphs than text and showcasing your most important abilities and strengths in a digital format. On a global scale, graphic and visual resumes are growing in popularity.
You must have a visual resume if you want to keep one step ahead of your competitors in your field. As you progress in your profession and earn experience, you will develop different profiles and accomplishments. You should include these things on your resume professionally so that HR recruiters, consultants, and corporate employers can quickly find them.
Creating a Resume with a Visual flair
The Visual Resume Writer should have extensive market knowledge and research on the topic and industry in which the clients are most interested. They are ready to tackle any challenge, whether you already have a resume or need a new one or an update on the one you already have. We can also provide visually updated resume/CV samples. These samples are meant to give you an idea of the kind of information you'll need.
The writer should be skilled in creating visual CVs for any industry or area. We know what it is advantageous to present and, more importantly, whether you work in sales, information technology, engineering, finance, accounting, or any other area. Customers from India, the United States, Singapore, Dubai, the United Kingdom, England, Spain, Oman, and other countries look for resume and CV writing services.
Here are a few things You should know about the importance of a Visual Resume:
Procedure may be taking longer than expected!
It's a frequent misconception that if you pay money to have a resume service, they will do all the hard work for you, and everything will be done before you know it. However, creating a strong CV takes time, which is especially necessary given the large number of people looking for work in today's market.
Many resume writers require a week or more, depending on factors such as the number of changes needed, their capacity, or the quality of your previous work experience. This is something to keep in mind if you have an application deadline. Keep in mind that using a resume service implies that you value quality over haste, so keep that in mind.
The authors may or may not have the same level of competence as you imagine:
Many services provide unbelievably low charges because they are compelled to do so to sustain a profitable business strategy. This is, in most situations, a red flag. A low rate almost generally means you'll be dealing with an inexperienced writer ready to accept a far lower rate than the regular rate. (You'll be surprised to learn that some services hire a young college graduate for their first job.)
The method is not as straightforward as it appears at first:
One of the most common misconceptions about Visual Resume Writing Services is that they will complete all of the work for you. However, they won't be able to start working on your resume until you've completed detailed information. You'll be asked to specify relevant information about your previous work experience, talents, and professional accomplishments.
You can also expect to spend significant time on the phone and via email conversing and collaborating with your writer. Remember that once they've delivered your initial draughts, you'll need to give them feedback. A few iterations will probably be required before you agree on the final form.
Here is an example of a Cover Letter for a bartender. In the first paragraph of the body, the candidate mentions the job board on which he/she discovered the job profile. After that, the paragraphs are connected by saying all the critical details about the applicant including skills, work experiences, etc.
In the last paragraph, along with the call to action, the applicant also mentioned their contact number. You can also mention the same. Even if you are rejected, you can expect a call from the hiring team in which they will mention their reason and opportunities that may come forward. 
Here using a simple Visual resume can further add more value to your profile.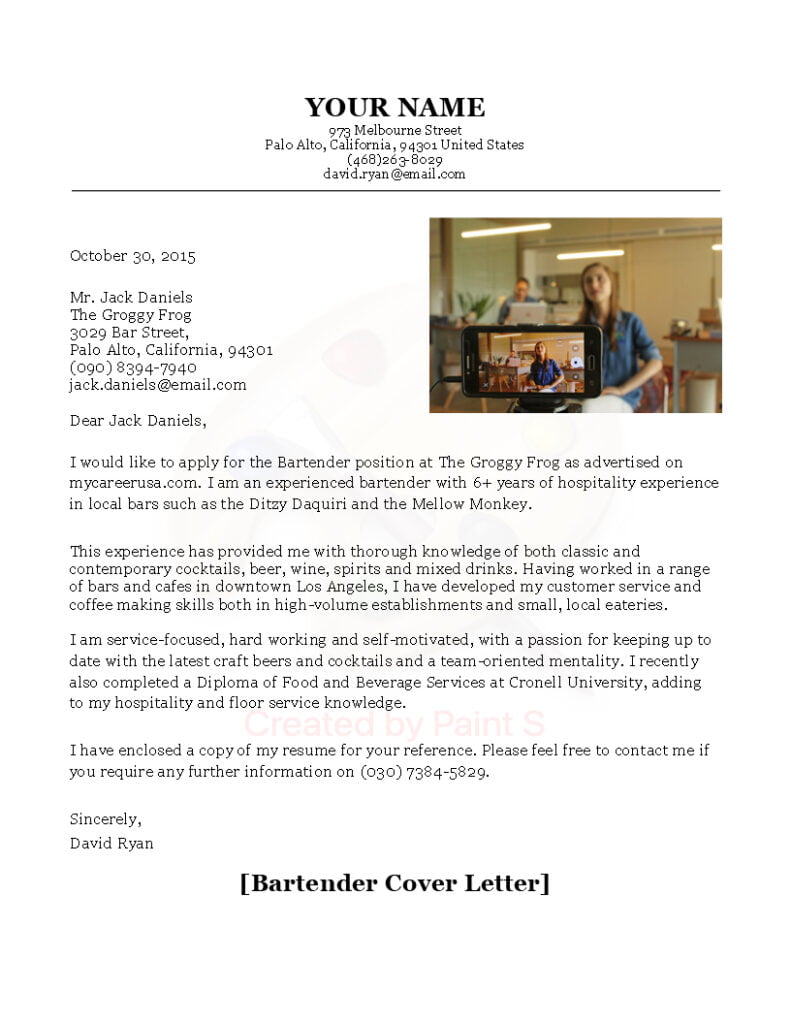 A Visual Resume adds your personality to the resume or a cover letter. HR recruiters will know more about your facial expressions and be able to select the right candidate to match with their business specifications such as client handling and management skills. 
Writrox offers a complete Resume Writing Services for helping professionals to achieve their optimum and deliver at their potential. Connect with Visual writing experts to start your journey in the Video resume!