HR Managers handle the human resources activities of a business. Recruiting workers, improving employee retention rates, promoting organisational growth, enforcing HR policies, and counselling employees are the main responsibilities described in an HR Manager resume example. On HR Manager resume categories, traits such as leadership, organisation, communication, people skills, report writing, computer aptitudes and time management are also appreciated. Employers pick candidates in their resumes that show a Bachelor's Degree in human resources. Previous experience is also needed in the field.
 A significant move in your job search process is writing a perfect HR Manager resume. Be sure to reference the job description when writing your resume and highlight any talents, awards and certifications that fit the criteria. You may also want to provide a summary or headline statement that expresses your objectives and qualifications clearly.
Start with a powerful headline
The purpose of a resume title is to make a first impression, grab the attention of the hiring manager, and make them read on. Good resume headlines are snappy one-liners summarizing the business career of the job seeker. The overview of your job profile, stated in a few lines or phrases, is the resume headline. The headline of the resume is intended to be written shortly and succinctly. In reality, within 250 characters, the resume headline section allows you to write your resume headline.
A headline shows the main resume "selling points." Managers quickly see who you are and what separates you from others. Putting a title on your resume indicates the advantage they would get if you were recruited. It gives you the work you are doing and a little bit of why you're doing it so well. Headlines should be powerful, brief, punchy, and unforgettable. They're packed with great details as well. The shortest and least formula-driven ones are the best.
HR Manage Resume Format
Always use the best format for the hr manager resume which is chronological format.
HR Manager Resume Sample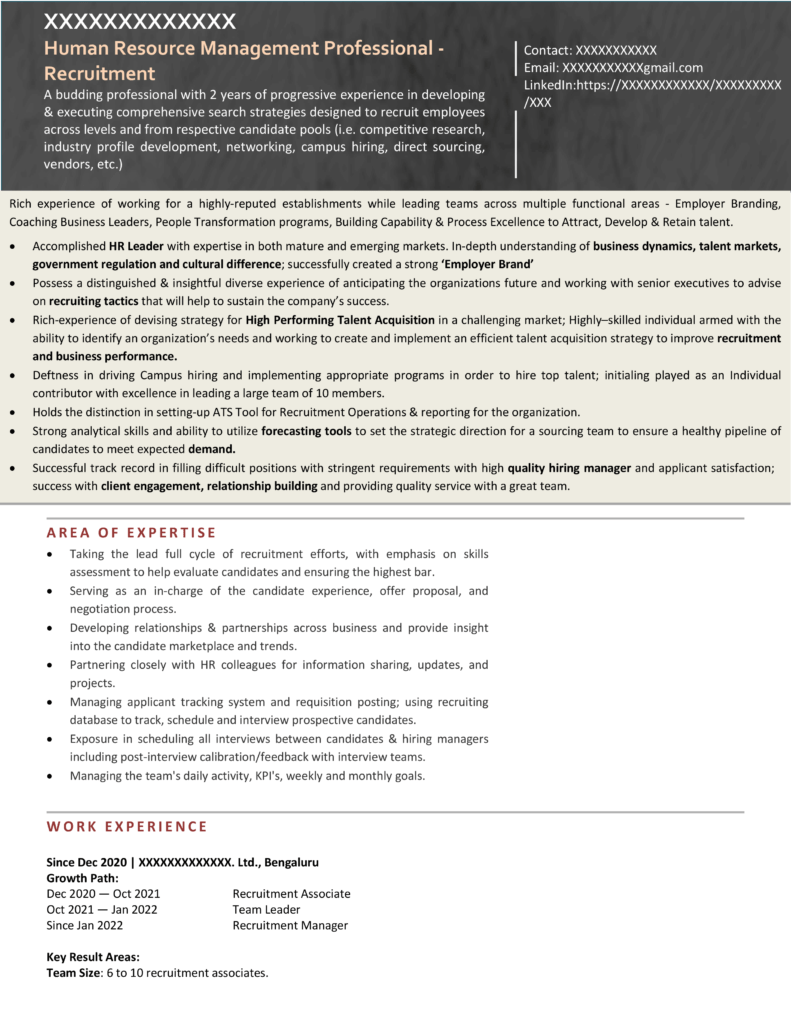 Write your educational qualifications and other certifications,Languages for HR Manager Resume
You need a solid retention plan, like a great HR boss, if you are to keep the employer's eyes on your resume. That implies: In a way that keeps them interested, list your educational history on a resume. On a human resource manager resume, here's how to list your education:
Start at the top with your latest and highest grade, and go backwards from there (just like in the job description).
Add your acquired degree, college name, date of graduation, and place of school.
If applicable to HR manager jobs, relevant coursework or Latin honors, certificates that provide additional information.
If you're still completing college, do not have a high school on your resume.
Add how many languages you can speak fluently
Share your work details of your previous organizations
Any good HR manager knows that the heart of your resume is to add relevant job experience.
First, list your most recent work, then the previous one in any company or organization and so forth.
Place business titles on top, then the dates worked, the name of the organisation, and a few (5 or 6) bullet points outlining the duties of your HR boss.
Start with resume action words at each bullet point (e.g., spearheaded, initiated, etc.).
With statistics, rather than just broad claims, give them concrete accomplishments. Instead of sending in a generic resume, tailor your resume to one particular HR task.
Write about your human resource managerial skills and your career highlights
Human resources skills are those that are required to recruit and train job applicants and administer employee benefit programmes for individuals or a department in a business. Human resources jobs include managers of HR, specialists in HR, recruiters, managers of training, generalists and more.  Human resource is a sector needing the requisite leadership and management preparation to improve the skills employers are looking for. More prospects in the business world are provided by HR practitioners who have a wider knowledge of specific areas and more practical skills.
here are some of the integral skills to constitute on your resume Writing Services:
Communication skills
Decision-making skills
Training and developmental skills
Empathic skills
Finance skills
Organizational skills
Business management skills
Leadership skills
Add other skills and sections in the resume that makes you special
Human resources manager positions are projected to grow between 2016 and 2026 by 9 per cent. Which is almost 12,000 fresh HR executives to face for the job.
To kill them— By designing the best HR manager skills resume segment, you're better than the rest. Human Resources Manager Resume Skills can be:-
Human Resource Administration
Recruiting & Staffing
Dispute Management
Training & On boarding
Employee Relations
Succession Planning
Nonetheless, each applicant for HR management will include those sections above. Have some optional extra parts to stand out as special. For a human resource manager resume, here are great additional options:
Certifications
Foreign languages
Portfolio for the project
Accomplishments associated with work
Memberships & licences
Private interests
Volunteer work resume
Highlights HR keywords for your resume
For both human readers and electronic eyes reading your resume, you know how important keywords are. You will be viewed as unqualified and your resume will be skipped over if you don't use certain all-important terms. Let that not happen to you.
Look for openings in your resume to add keywords. At the top, you can build a "Core Competencies" or "Summary of Professional Skills," but that's not enough. Throughout every section of your resume, you want keywords to be popular.
Every resume sample of HR managers should be distinct (remember: tailored), so don't use into your resume these exact human resources skills. Instead, demonstrate due diligence by doing this:
List both soft skills linked to HR management and hard skills when incorporating technical skills into your resume.
Get the work summary of the HR manager to which you are applying.
Highlight the skills you are searching for in the career qualifications section and find the right keywords to use on a resume.
Write clearly, crispy and use action words also
The significant verbs that propel sentences forward by certainly communicating your abilities and experience are the resume action words. They enhance your resume's readability and spice up the language so that recruiters and hiring managers to stay locked in beyond the 6-7 seconds they usually spend grazing.
Chances are your resume already contains many verbs of action. Others are tired and boring, while some action verbs pack a punch.
Some are more exciting words than others. Verbs are more engaging than nouns, for instance. And the most thrilling of all is fresh verbs. Such phrases jump off the page and require attention.
Your resume can be transformed by action words. Remember to be specific, use new words, and when writing about your experience, avoid the passive voice.
Attach cover letter for HR manager job
About half of employers say a resume is a big turn-off without a covering letter (and you might even be one of them). Without a human resources manager cover letter, don't hand your resume in. Here is how to write a cover letter from a great HR manager:
Before beginning, pick the right cover letter format.
Start with a compelling opening cover letter.
Talk about your HR background and experience with management.
To quantify your abilities, add key accomplishments to them.
Use the conclusion of a strong cover letter and call for action to end it.
Never send a cover letter in the generic form.
Read more- How to write a cover letter for job in 2023?
Write how you are suitable for the HR job description for a company
For all employee-related problems, an HR manager is a go-to person. This means that overseeing tasks such as role design, recruiting, employee relations, performance management, training & growth and talent management would be included in the HR Manager duties. For business success, the role of HR Manager is critical. The most valuable asset is people and you will be the one to ensure that the company has a positive and prosperous environment where everybody works to realise our mission and goals that have been set. A critical element of a complete HR manager job description and specification is the fostering of organisational principles and the shaping of a healthy culture.
For getting hired with right resume hr manager format then contact best resume writing services in Mumbai and our Professional resume writers will help you in that.